Phase II : Purchase of Land for Memorial Stupa
Fundraising Period: 1st – 31st December 2022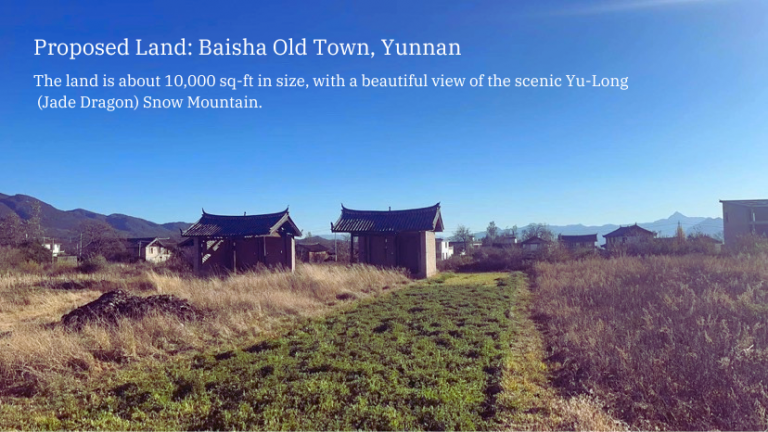 Proposed Land
Amount: USD42000
Location: Baisha Old Town (Old Town of White Sand), Yunnan
The lazy Yu-Long (Jade Dragon) River winds through the heart of Baisha Old Town, a village dating back over 1,000 years set amid the spectacular landscape of the Guilin and Yangshuo area. The land is about 10,000 sq-ft in size, with a beautiful view of the scenic Yu-Long (Jade Dragon) Snow Mountain. It has two small old structures, though not livable but provides foundations for the future building.
Invitation to Participate / Message from Rinpoche: 
Please understand how important it is for me to do this in my lifetime. It is important because I love my Mom and I wish all sentient beings liberation.If you would like to donate, you can choose any amount. This will be good virtue for you. It will be good virtue for my Mom, for me and for you. This is why I am inviting my students and friends to donate to Orgyen Khandro Ling. This will make my dream , my wish and my Mom's memorial come true to benefit all sentient beings and for them to have liberation.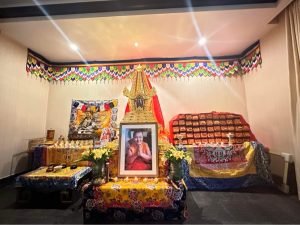 Vision for Orgyen Khandro Ling
1. The place will host the Stupa in Memory of Rinpoche's mom, the manifest of her pure land.
2. Be a practitioner's garden for meditation
3. Be an inclusive space for people of all walks and all faiths to reflect, to relax and to open their hearts and minds to the beauty of the land , a manifestation of the Buddha Nature.
Rinpoche wishes to raise about USD42,000 (Chinese Yuan 300,000) by end of December for the land purchase.
To contribute to this precious cause:
1. Leave a Facebook Message
2. Send a message to Rinpoche's email account: khenchenlama@icloud.com
Together , we can do it
Thank you for your generosity !